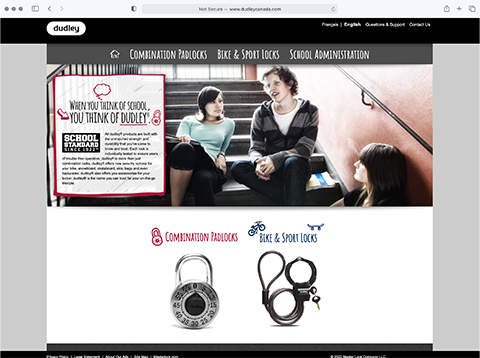 DudleyCanada.com
dudley® — A School Standard Since 1922™
When you think of school, you think of dudley®. Showcase your own personal style with dudley® locks, the School Standard Since 1922. dudley® is more than just combination locker locks. With new locks for bikes, snowboards, skateboards, bags, backpacks and skis, dudley® locks are the security you need for you on — the — go lifestyle.
You already know our locks are durable, but did you know they offer another way to show off your style? From eye catching colors to modern patterns, we've got one for you.
The Claw™ is the ultimate bike and snowboard lock. The Claw lets you loop through snowboard bindings, lock on skate trucks, and weave through your bike to secure your stuff.
The Claw Mini™ is for your backpack, bags, sports bags, luggage and anywhere you need a small, stylish combination lock.
The Flare™ is made for bikes. The best feature, after the tight bike security, is the LED light on the dial that allows you to clearly see your combination in any light.
All dudley® products are built with the unmatched strength and durability that you've come to know and trust. Each lock is individually tested to ensure years of trouble-free operation.
dudley® offers One-Digit and Two-Digit Combination Locks for those students with special needs… and it looks exactly like a standard combination lock! These locks also provide a key override function for immediate administrative access.
Visit DudleyCanada.com