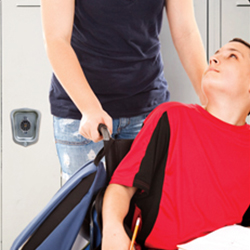 Master Lock Mainstream Series
ADA-Compliant Locker Lock Solutions
Master Lock has developed the Mainstream Series™ to offer locking solutions for special needs users. This series of locks is easy to use and can assist in the goal of mainstreaming special needs users with options that accommodate different needs and applications.
ADA-Compliant
Locker Locks
The Master Lock ADA-Compliant built-in combination and keyed locker locks are designed specifically to meet the Federal regulations defined in the United States Department of Justice "2010 ADA Standards for Accessible Designs". Featuring the Master Lock Three-Ways-To-Open™ technology, the locks meet the requirements while also operating like the other locks in your system – so no lock looks different, and no student is singled out.

Learn more about ADA-Compliant Locks
ADA-Inspired
Locker Locks
Master Lock ADA Inspired locks address special needs beyond those outlined in the "2010 ADA Standards for Accessible Design". These portable locks are designed to be easy to use and assist those with physical or cognitive challenges operate a lock independently. All ADA Inspired locks fit most standard lockers.

Learn more about ADA-Inspired Locks