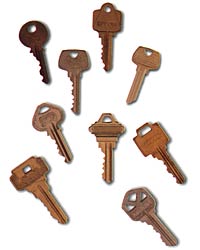 The same key that opens your security doors can now operate your security padlocks!
The Master Lock assortment of Door Key Compatible Padlocks means that the same key can open all your facility's padlocks and door locks as well. Most popular door keyways can be matched to a complete line of Master Lock padlock products. The result is greater facility convenience and key control, plus the full strength of Master Lock security.
Master Lock's same key convenience doesn't mean settling for one style of padlock. The ProSeries® product line of Solid Steel, Solid Brass, Weather Tough and Shrouded High Security has been engineered to be door key compatible, without sacrificing any of the quality and versatility that ProSeries is known for.
There are 26 different door keyways in the Master Lock selection. One will match most any door lock keyway, old or new.
Click on the following links to download sections of the Master Lock Technical Manual: