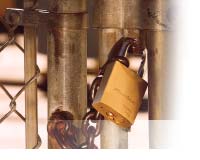 Restore security instantly and economically!
Interchangeable core padlocks and door locks don't require disassembly in order to change the cylinder. The figure-8 interchangeable core can be removed and replaced with a single control key.
This convenience addresses common security issues:
Preventing access when a key has been lost or stolen
Resetting individual doors or gates with different locks to selectively limit access to authorized personnel
Re-securing a building after temporary or contract employees end their term
Securing a building against terminated employees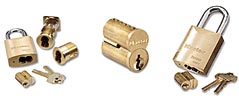 The Master Lock assortment of cylinders includes 16 distinct keyways to match existing profiles from Best®, Falcon®, and others. Cylinders, ProSeries® padlocks - Solid Steel, Solid Brass, Solid Aluminum, Weather Tough® and High Security Shrouded locks, with cylinders and mortise or rim cylinders for door applications are all available.
Click on the following links to download sections of the Master Lock Technical Manual: