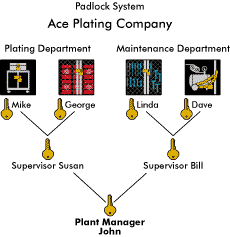 In a padlock only Master Key System, any of the Master Lock ProSeries® padlocks and most laminated padlocks can be used. However, there cannot be cross-over to locks that use either a door key or interchangeable core cylinder. If this option interests you, please review the Door Key & IC Master Key section.
Master Lock provides and will maintain Key Record-keeping for padlock Master Key Systems. A Master Key System Record is a listing of all the assigned key cuts to a padlock system. Should your organization's Master Key System need expansion in the future, the key record is used as a reference to ensure that the new locks do not duplicate current key cuts, safeguarding the security of the system.
Master Lock will provide a copy of the Record, at an additional charge, as requested.
The Master Lock chart references the key cut to the lock serial number. Your organization may find it useful to keep records by serial number of which employee is assigned a specific lock.
Please contact Master Lock Customer Service to define and order your Master Key System at 800-308-9244.