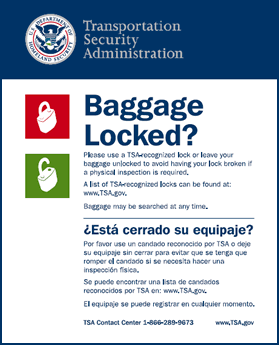 The Transportation Security Administration (TSA) now suggests you lock your checked baggage with TSA-Approved and recognized locks. Travel Sentry® Approved locks are approved and recognized by the TSA. Look for the Travel Sentry® symbol when shopping for these TSA-Approved products.
Master Lock has joined together with TSA and Travel Sentry® to use the special Travel Sentry® mark on luggage locks that meet the requirements of the TSA. Airline check-in staff are trained to recognize the Travel Sentry® mark so they understand that baggage with this special mark is permitted to remain locked. The TSA screeners have access to special tools that allow them to open TSA-Approved locks in the event that your bags must be opened for inspection.
They no longer need to cut your locks or force the bag open and risk damaging it. They simply open your locks, inspect, and re-lock your bags, sending them quickly and securely on their way.
The Travel Sentry program is approved in 29 countries covering 600 airports and 1.8 billion passengers annually.
Lock your suitcases with our TSA-Approved luggage locks.