Master Lock takes security to the next level, with product innovations that include: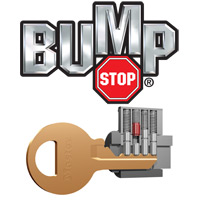 BumpStop® Advanced Cylinder Technology
The bump stops here! Master Lock padlocks and security products with patent-pending BumpStop® technology can counter the ever-growing security threat of lock "bumping" — a surreptitious method of picking a lock without evidence of entry.
When a lock is bumped, force is applied to a "bump key" to drive the bottom and top pins up in the pin chamber. When the top pins contact the tip of the pin chamber, they create an impact that causes the bottom pins to separate and travel downward. When the gap between the top and bottom pins crosses the shear line, the slight torque applied to the key causes the plug to rotate — and the lock to open. But unique BumpStop® technology prevents the transfer of force from the bump key to the pins and blocks rotation of the cylinder... so the lock remains locked.
ASTM International has developed testing criteria for determining a cylinder's ability to effectively resist break-ins using lock bumping techniques. The revised standard is used to test and compare pin tumbler cylinders commonly used in padlocks. In these tests, locks from Master Lock exceed Grade 6 lock bump test criteria. This is due to these locks' reverse rake tapered driver pin, high performance spring and precision tolerance chamber.
BumpStop® technology is available with most pin tumbler padlocks and key-in-knob padlocks.
Edge™ Key Control System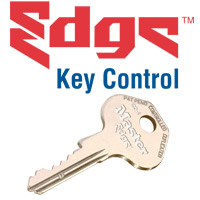 Enhance the security of your facility with the exclusive Edge™ Key Control System. The patented Edge™ system makes key-controlled security a cost-effective possibility for virtually any facility and application.
The system's innovative cylinder design and added locking mechanism creates numerous one-of-a-kind "virtual keyways."
With its proprietary cylinder and innovative locking feature that creates an exclusive range of cut keys, this system allows you to easily control exactly who can have duplicate keys made. Key blanks are completely restricted and are available only at authorized dealers, making unauthorized duplication impossible — removing the risk of key copies being made by unauthorized employees. All operating keys are unique to your facility. Plus, a free record keeping service is available for all registered Edge system end users.
The Edge™ Key Control System option is available with Master Lock pin tumbler padlocks, and key-in-knob cylinders for padlocks.
BlockGuard® Anti-Shim Technology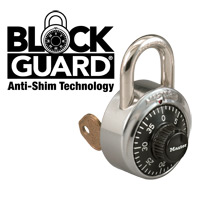 Continuing to lead the market with innovative security solutions, Master Lock now offers the patent-pending BlockGuard® Anti-Shim Technology – the very best in shim deterrence for combination padlocks.
These enhanced combination locks deter shimming, a method of violating a lock by inserting a specially designed shim tool into its latch mechanism. BlockGuard® has unique flat latch technology that actually blocks typical shimming tools from opening the lock – deterring break-ins.
Master Lock exclusive BlockGuard™ Anti-Shim Technology is now available on combination padlock models 1500 (boxed), 1502 and 1525 with supervisory key control.