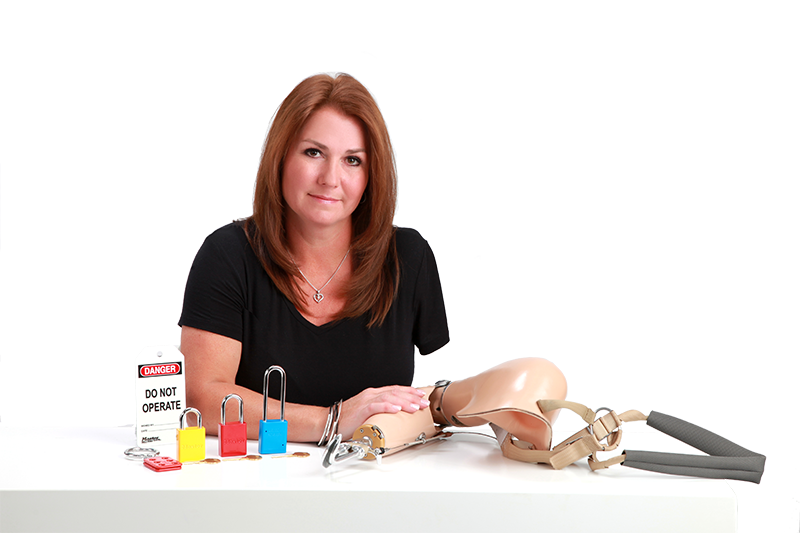 Safety Awareness Advocacy
Kina Hart (née Repp), in partnership with The Master Lock Company, is dedicated to motivating others to make safety personal and reducing the occurrence of workforce injuries in the workplace.
Kina draws from her own personal experience with a workplace injury to convey the importance of making safety personal.
Learn More
Kina's Story
The summer after their sophomore year, Kina and her friend found jobs at a fish cannery in Alaska to help pay for their college tuitions. On her very first day of work, Kina was assigned to clean the conveyor belts, with little instruction or safety training. The events that ensued changed her life forever.
Due to the lack of an enforced safety lockout program, the conveyor belt was turned on as Kina worked below. In a matter of seconds, her life was in grave danger. This workplace accident resulted in the loss of Kina's arm, but she survived and went on to become a safety awareness advocate that inspires global audiences to make safety personal.
Download Video
Right-click
on the "Download Video" link to save the video (MP4 format) to your computer.
Speaking Sessions
"Let my accident be the one you never have." -Kina Hart (née Repp)
Kina is a dynamic speaker who courageously shares her personal story with diverse audiences.
Her presentation covers:
Her story, and how this accident affected the people around her.
Each person's role and personal responsibility to make the workplace a safer environment for all.
The importance of establishing a comprehensive lockout program and promoting a strong safety culture throughout the organization.
Whether she is speaking to a small group of new hires, an entire facility, or at a national safety conference, Kina's solemn message, mixed with her unique humor, will awe and inspire.
Everyone can benefit from her unforgettable lesson about the importance of safety.
Find out how to schedule Kina Hart (née Repp) to speak at your location.
Request Information