Arc Flash & Electrical Safety Services
Protecting your employees from arc flash is a full-time job. Master Lock makes it easier.
Prevent Incidents –
Every year, there are an estimated 30,000 arc flash incidents.
†
Protect Workers –
2,000 workers are hospitalized from arc flash incidents each year.
†
Eliminate Mistakes –
2 out of 3 electrical injuries happen because of inappropriate worker action.
†
Electrical Safety is a Responsibility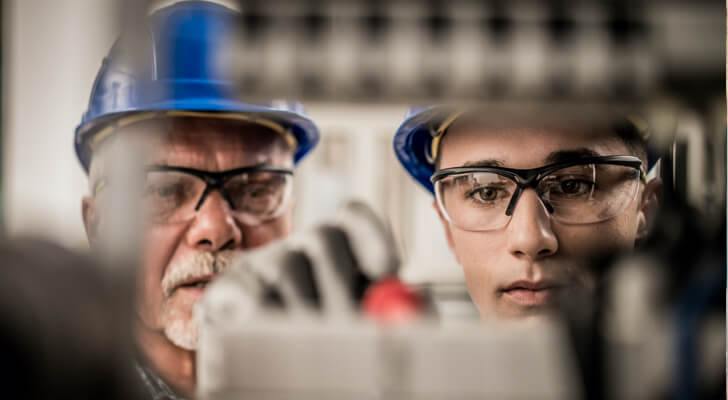 OSHA, NFPA, AND CSA COMPLIANCE
A holistic, end-to-end approach to achieving OSHA, NFPA 70E® *, and Canada's CSA-Z462:18 electrical safety compliance.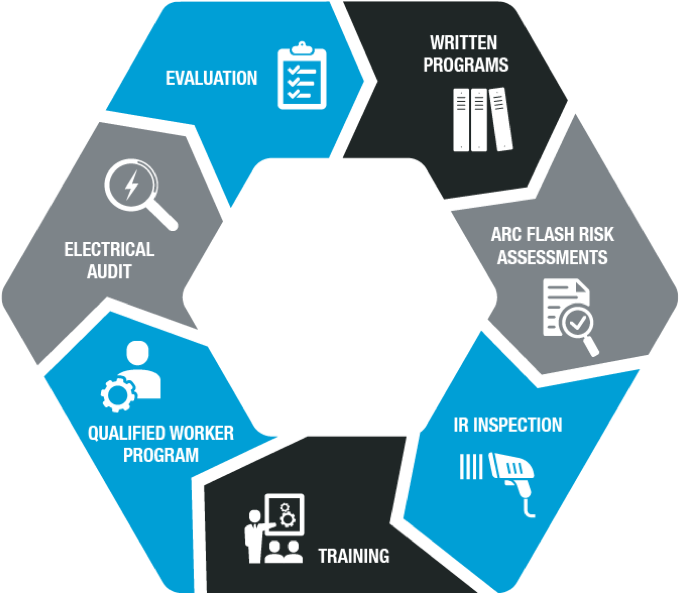 Proven Arc Flash Process
Evaluation
Review electrical practices and documentation.
Written Programs
Examine current documents and provide OSHA-compliant updates.
Arc Flash Risk Assessment
Comprehensive study of your electrical system to mitigate risk of arc flash.
IR Inspection
Identify electrical risks to eliminate safety hazards and loss of productivity.
Training
Administer OSHA and NFPA 70E® * compliant training.
Qualified Worker Program
Develop customized electrical task training.
Electrical Audits
Conduct a comprehensive, 110-point investigation to improve processes.
Expert Evaluation and Implementation
Comprehensive Evaluation
Master Lock evaluates your current system and creates a plan to address any gaps in your electrical safety program.
Evaluation
A thorough, two-day lotoAssessment of your facility and current processes lays the groundwork for a more complete system.
Arc Flash Risk Assessment
On-site data collection and real-time analysis of electrical devices delivers results and recommendations for system improvements.
IR Inspections
Identify excess heat in your electrical system to prevent potential equipment damage and safety hazards.
Electrical Safety Audits
Stay compliant with our 110-point investigation of your people, processes, equipment, and work practices.
Critical Implementation
We implement an arc flash risk lotoAssessment and make recommendations for sustained compliance.
Written Programs
Assess your current programs to address areas of noncompliance and provide recommendations or new policies within written documentation.
Employee Training
Train your employees to understand their roles and responsibilities within your company's electrical safety policy, OSHA and NFPA 70E® * standards.
Qualified Programs
Create a training program with electrical tasks specific to qualified workers.
100 Years of Keeping People Safe & Secure
Master Lock has more than a century of experience keeping people safe. Drawing on this expertise, our team of PE-licensed electrical engineers and field technicians create the processes that keep your job site safe. Rely on Master Lock, because when it comes to safety, there are no second chances.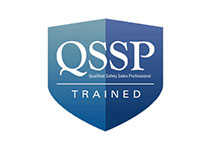 Get in Touch
Prioritizing safety can help you avoid incidents or violations. Contact a Master Lock safety expert or schedule a free Assessment to learn how we can help you improve your safety program.
Thank You!
Thanks for reaching out. One of our safety reps will connect with you to go over any safety needs and concerns you have.
Looking for more? Check out our safety service resources below:
Thank You!
Thanks for reaching out and sharing your availability. One of our safety reps will connect with you during your selected time(s) to go over any safety needs and concerns you have.
Stay Informed
Get the latest OSHA and Safety Updates